Restore Pedder Bumper Sticker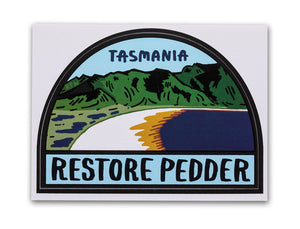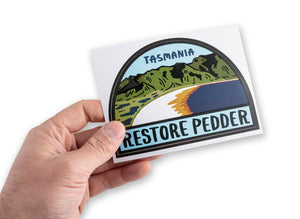 Product image 1

Product image 2

Support Lake Pedder's Restoration
Deep in Tasmania's south west sits Lake Pedder, a beautiful glacial lake at the foot of the Frankland Range. When first explored, its quartzite beach was large enough to land a small plane on. Well, that was true until it was flooded in 1972 for a hydroelectric scheme. Now, the Lake Pedder Restoration Committee's campaign hopes to turn back the clock and bring back this Tasmanian icon. Find out more about Lake Pedder here.
Bumper Stickers To Spread The Word 
Take your support for restoring Lake Pedder to the streets! Wherever the road takes you, our bumper sticker can endure Tasmania's temperamental weather. Printed locally with lightfast inks to combat sun exposure and the outdoor elements. If you're going to help take on the restoration of Lake Pedder, you'll be needing a mighty sticker. 
Size: W: 120mm  H: 86mm.
Help Preserve Our Wild Island 
By buying a Restore Lake Pedder Bumper Sticker, you're donating to organisations and campaigns working to protect our little part of the planet. 50% of Keep Tassie Wild's profits go towards groups like The Tree Projects, Difficult Birds Research Group, the Tasmanian Wilderness Guides Association, and much more! 
Loving our bumper stickers? Check out our Wineglass Bay Sticker or get cheeky with our Turbo Chook Bumper Sticker.