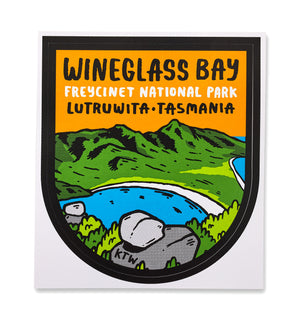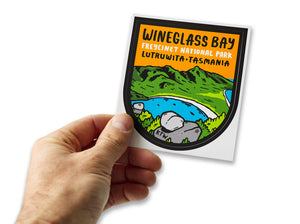 Product image 1

Product image 2

Tasmania's Jewel 
As one of Tassie's most iconic beaches, Wineglass Bay is a jewel in the crown that is lutruwita/Tasmania's stunning east coast. Situated in Freycinet National Park, it can only be reached by boat or via the rocky Hazards mountain range. The bright white sands and sparkling blue waters of Wineglass Bay are a sight to behold! 
Bumper Stickers That Last The Distance 
Share your love for the east coast today! And the best part? Our Wineglass Bay bumper sticker is weather resistant, fade proof, and printed in Tasmania . . . High quality and locally made. You beaut! If your Wineglass Bay sticker gets covered in the dust of your adventures, use a soft cloth and soapy water to gently clean. 
Size: W: 88mm H: 100mm.
Preserve Wild Tasmania 
By showing off a Wineglass Bay sticker on your car's bumper, you're doing your bit to protect Tasmania's wilderness. 50% of our profits are donated to local environmental organisations like the Wilderness Society, Bob Brown Foundation, and much more. Go you!   
Had the travel bug? Check out our Cradle Mountain Patch and epic Wineglass Bay Patch.