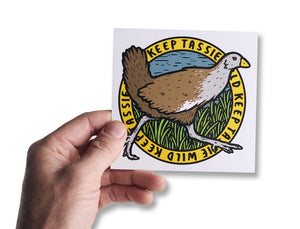 Product image 1
Product image 2
Tassie's Turbo Chook
An undeniable Tasmanian favourite! The super speedy native hen, A.K.A turbo chook, has made its way into the hearts of many Tasmanians. Endemic to our little island, these flightless birds rely on their super-speedy legs to get them out of trouble. Wanna make friends with a turbo-chook? You'll usually find them hanging out in open grassy areas near a creek or marsh. But if you can't catch up to one, our sticker might have to act as a stand-in. 
Not Your Average Bumper Sticker 
Our turbo chook bumper sticker is super durable and water resistant. If it can handle Tasmanian weather, it can handle anything. Our stickers are printed locally with quality inks designed to endure the elements. Buy one for yourself and take it for a test drive! 
Size: W: 110mm H: 105mm.
Your Bit To Preserve Tasmania's Wilderness 
Look at you, helping to save Tassie's wild places! 50% of our profits go towards local campaigns and organisations like BirdLife Tasmania, Team Clean Tas, Bonorong Wildlife Sanctuary, and much more!
Love our Turbo Chook Sticker? Check out our Swift Parrot Sticker or our fearsome Tassie Devil Enamel Pin.