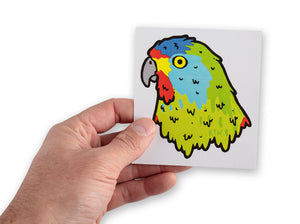 Product image 1
Product image 2
Save The Swift Parrot 
Help drum up support for our feathered friend! The beautiful (and endangered) swift parrot is endemic to south-eastern Australia. They spend half of their time on the mainland and fly south across the mighty Bass Strait to breed in Tasmania during the springtime! 
Our Bumper Stickers
Are Here For The Long Haul 
Our stickers are designed to die hard. Bumper stickers are under a lot of stress from the elements, so you'll need a sticker that can rise to the challenge. The swift parrot bumper sticker is printed in lutruwita/Tasmania with high quality, lightfast inks. 
Size: W: 90mm H: 100mm.
Doing Your Part 
Get a slice of the action by buying our swift parrot bumper sticker. 50% of profits go towards local environmental organisations & initiatives like the Difficult Bird Research Group, BirdLife Tasmania, Tasmanian Climate Collective, Forestry Watch, and much more! Find out more on our donations page!
Loving our Swift Parrot Sticker? Check out our speedy Turbo Chook Sticker and Blue Bird Patch.