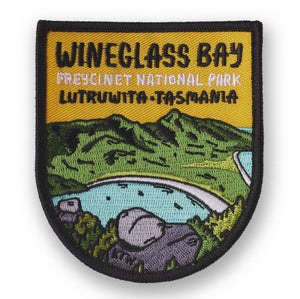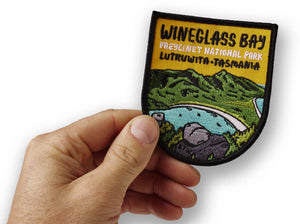 Product image 1

Product image 2

Tassie's Freycinet National Park 
White sands and turquoise waters await those venturing to Tasmania's Wineglass Bay! Find this Tassie icon in Freycinet National Park by hiking between the rocky mountain range known as the Hazards. Those up for it can hike will be rewarded with a spectacular view of Wineglass Bay that is sure to tickle your sense of adventure! Try hiking the 27 km Freycinet Peninsula Circuit track during the Off Season for a quieter and truly wintry Tasmanian experience.  
Your Own Wineglass Bay  
The real Wineglass Bay is a sight to behold! But if life gets in the way, you can always grab one of our patches instead. The yellow and lush green colour combo will make this KTW patch pop on any rucksack, cap, or hiking gear. Why not even take this little guy to Wineglass Bay? 
A high-quality embroidered patch designed and made here in Tassie. Made to last. Dimensions: W 78mm x H 90mm
Preserve Tasmania's Wineglass Bay 
Half of Keep Tassie Wild's profits are donated to organisations fighting the battle for nature. By buying one of our patches, you are choosing to protect Tasmanian icons, like our pristine Wineglass Bay. You legend! 
Using your Wineglass Bay Patch as a Tasmanian souvenir? Then you'll be needing our Cradle Mountain Patch as well!