Save the Organ Pipes sticker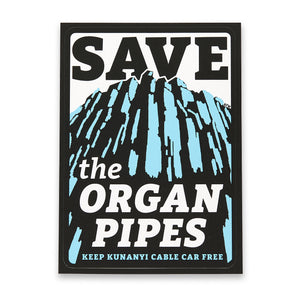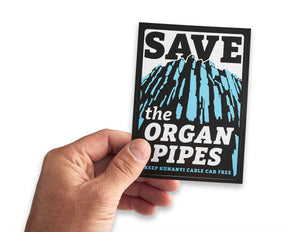 Product image 1

Product image 2

Don't Be Shy 
Show 'em where you stand: save the Organ Pipes! The beautiful kunanyi/Mt Wellington sits on Hobart's doorstep and her presence is a constant and powerful reminder of our connection to nature. These stickers pay homage to the mighty Organ Pipes, the cliffs on kunanyi's face that would be scarred by cable cars if this development were to go ahead. Check out Respect the Mountain on Facebook for more info on the proposed Mount Wellington cable car.
Bumper Stickers That Say It All 
The message is loud and clear on our Save The Organ Pipes Sticker. We strongly believe that the proposed cable car is an inappropriate development and we're gonna fight tooth and nail to stop it. With quality lightfast inks, our bumper sticker can handle rain, hail or shine. Designed and printed locally in Tasmania. 
Size: W: 85mm H: 120mm.
Protect Tasmania's Wilderness 
By buying a Save the Organ Pipes bumper sticker, you're doing your bit to help Tasmanian environmental organisations preserve our little slice of paradise. 50% of our profits go towards local Tassie groups and initiatives like Residents Opposed to the Cable Car, Landcare Tasmania, and much more! Now that's something to support.