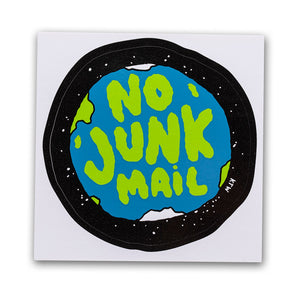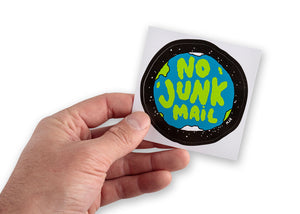 Product image 1
Product image 2
Lay Down The Law 
No junk mail here, my friend! Make it bright and bold to let the postie know you ain't keen on waste. Don't have a mailbox at the ready? No problem, this sticker will speak volumes wherever you place it. 
A Serious No Junk Mail Sticker 
Make 'em stare! If you're about to take on the war against waste, then you'll need one hell of a sticker. Our No Junk Mail Stickers are printed with high quality inks. They're lightfast and will never abandon your mailbox, no matter the weather.
Size: 75mm diameter.
Doing Your Bit 
Tell the world what you stand for! By buying our No Junk Mail Sticker, you're helping local organisations preserve Tassie's unique wilderness. Half of our profits are donated to local organisations like Landcare Tasmania, Blue Derby Wild, Tasmanian Climate Collection, and much more! 
Loving our unique stickers with a cause? Check out our Restore Pedder Bumper Sticker!