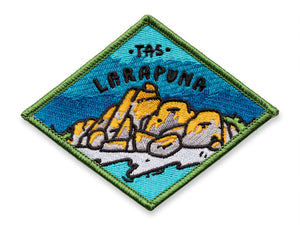 Product image 1
Product image 2
Tassie's larapuna 
larapuna patch! The Aboriginal name for Tasmania's spectacular north-east coast, with its Bay of Fires and Eddystone Point. Rocky landscapes with brilliant orange lichen, white sands, and clear waters have been home to the pakana (Tasmanian Aboriginal people) for tens of thousands of years. Given back to the Aboriginal community in 2006, the amazing larapuna does not disappoint! 
Take Me To larapuna! 
Pay homage to Tasmania's unique wilderness with our larapuna Patch. Grab a KTW patch and iron 'em onto your gear to bring on your trip to the north-east coast! But if you can't make it, our larapuna Patch can be your motivator to get there one day. 
In celebration of our larapuna Patch, Keep Tassie Wild donated $1,000 to Seed, the first Australian Indigenous youth climate network. 
Size: W: 110mm H: 80mm
Keep Tasmania Iconic
For a small island, Tasmania's wilderness packs a punch! A visit to larapuna's magnificent Bay of Fires and Eddystone Point will be long remembered. So help protect our Tassie icons by grabbing your own larapuna Patch! 50% of our profits are donated to the Tasmanian organisations that are working to preserve our state's wild places. 
Speaking of Tassie icons . . . You might also like our Wineglass Bay Patch and Restore Lake Pedder Patch!