Keep Tassie Wild Waratah Sticker Pack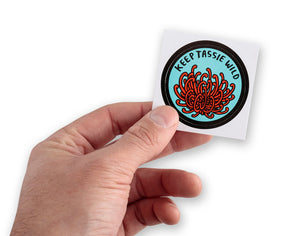 Product image 1
Product image 2
Product image 3
Spoilt For Choice
Sticker pack! Show off our native waratah (Telopea truncata) with two large bumper stickers and their three smaller counterparts (available only at keeptassiewild.com!). Stick 'em on all ya things or share with ya friends! But where to start? Think drink bottles, laptops, kayaks, your trusty travel mug, helmet or surfboard. Don't hold back - let the world know you're all for keeping Tassie wild! 
Bumper Stickers Designed To Survive The Wild 
We're talking waratah stickers that can handle hail, rain and the blazing sun. Our bumper stickers are made locally with high quality lightfast inks. Trust us, our Waratah Sticker Pack will see you through the seasons.
Size: 2 x 100mm diameter, 3 x 50mm diameter.
Join The Fight For Nature
Your purchase of a Waratah Sticker Pack will help fund Tasmanian campaigns, organisations and initiatives working to preserve our pristine wilderness. 50% of our profits are donated to local groups like the Bob Brown Foundation, The Wilderness Society, Landcare Tasmania, and much more! 
Can't get enough of our epic waratah? Check out our Waratah Enamel Pin and tees.