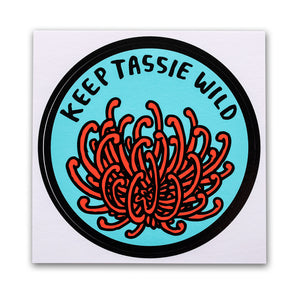 Product image 1
Product image 2
Product image 3
The Waratah Of Our Wild State
Our classic bumper sticker featuring the spectacular Tasmanian waratah (telopea truncata)! Endemic to Tasmania, our waratah is one of our most eye-catching native flowers. They're hard to miss when you're out on the trail bushwalking! You could venture into the wild to find one, but if you don't, our bumper sticker has you covered. 
Where Should Your Waratah Sticker Live? 
Get creative with our waratah bumper sticker! Where there's a flat surface, there's an opportunity. Jazz up your Nalgene water bottle, stick it on your laptop, field notebook or suitcase. Our locally printed stickers are made to last with high quality, lightfast inks. You could take our word for it, but we recommend sampling our sturdy sticker yourself. And we'll happily replace it if it doesn't last the distance!
Size: 100mm diameter.
Your Contribution To Protecting Tasmania's Wilderness
By buying our Waratah (telopea truncata) Bumper Sticker, you're donating to Tasmanian organisations working to protect our island. 50% of our profits go toward groups like Landcare Tasmania, the Tasmanian Land Conservancy, Restore Pedder campaigns, and much more! 
Crazy about our iconic Tasmanian waratah? Check out our Waratah Patch and its fellow Little Waratah Patch.