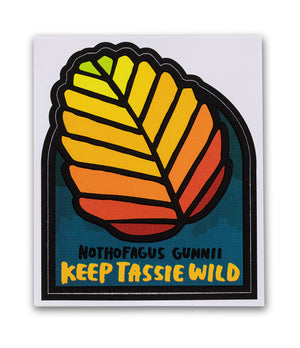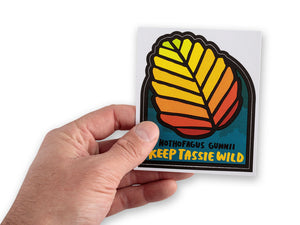 Product image 1

Product image 2

Must-See Autumn In Tasmania 
You haven't seen Tassie until you've spotted Australia's only cold climate winter-deciduous tree: the sensational fagus! Endemic to Tasmania, the 'turning of the fagus (Nothofagus gunnii)' is a sight to behold when the alpine bush transforms into shades of bright gold and rustic red. That's if you can brave the cold and wet conditions loved by the fagus! So, where can you catch a glimpse? Check out Mount Field National Park and Cradle Mountain in autumn. Or keep an eye on our Instagram to watch the photos flooding in.
Bumper Stickers That Are Ready For Anything 
Unlike the real deal, our Fagus Bumper Sticker will show off its fiery shades all year round! We print our bumper stickers locally in lutruwita/Tasmania with high quality inks, so your little fagus can handle whatever the wild throws at it. 
Size: Width: 80mm Height: 98mm.
Help Protect Untamed Tasmania 
By buying a Fagus Bumper Sticker, you're helping local organisations preserve our wilderness. 50% of Keep Tassie Wild's profits go towards campaigns and groups like Resident's Opposed to the Cable Car, Fishers & Walkers, Landcare Tasmania, and much more! 
Also check out our iconic Waratah Sticker!