Keep Our Waters Wild Sticker Sheet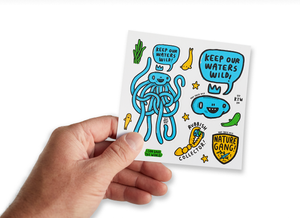 Product image 1
Product image 2

Help keep our waters wild by showing your love for the oceans! A sticker sheet with 13 little ocean themed stickers featuring some of the creatures that call our waters home. You beaut!
Even Our Stickers Can't Be Tamed 
Invest in stickers that will outlast even the worst weather. Our sticker sheet is printed in lutruwita/Tasmania using inks designed for lightfastness weather resistance. They won't fade or peel, so you can stick these little guys anywhere and know they'll last. 
Sticker sheet size: Width: 110mm Height: 110mm.
Your Contribution To Keeping Tasmania Wild 
Local environmental organisations are doing their bit to preserve Tassie's wildlife & wilderness. And we're riding that same wave! 50% of our profits are donated to groups like the Bob Brown Foundation, The Wilderness Society, Planning Matters, Tasmanian Alliance for Marine Protection, and much more.  
Loving our ocean sticker sheet? Your little adventurers might like our Starlight Camping, Little Waratah or Blue Bird mini-patches!